About us
Fire-Max Sp. z o.o. - the fire industry leader in Poland, is a reliable international business partner with 30 years of experience. The company was founded in 1991 and from its beginnings it has focused on supplying specialized rescue equipment of world-recognized manufacturers to Polish fire brigades, police and army.
Fire-Max offers, among others, training in and service of: MAGIRUS turntable ladders and special purpose vehicles; LUKAS hydraulic and industrial rescue equipment; VETTER pneumatic rescue equipment and sealing tools, LEADER fans and infrared cameras, AWG/ALCO water jet nozzles; SEEK THERMAL infrared cameras; COLTRI air compressors, pump units, rescue catamarans and many other own label projects. We also specialize in products for the industry: we offer advanced industrial hydraulics LUKAS, sealing bags VETTER for plumbing companies as well as rolling and re-railing equipment ZAGRO.
We are quick and reliable thanks to a developed network of own branches providing advisory services, training, repair and maintenance services of products offered by us. We promote state-of-the art technical solutions used to mitigate fire risk, in rescue actions and for the natural disaster recovery as well as for the elimination of consequences of industrial accidents. We participate actively in thematic conferences, ceremonies and exhibitions. We promote the equipment at individual presentations, organize large nationwide shows (FIRE-MAX TOUR), share our knowledge and experience during trainings and seminars. We train users of our equipment and we are an authorized centre. We also publish training materials. We are open to advanced solutions and willing to cooperate with equally innovative companies.
In 2019 Fire-Max started a new direction in its development: FIRE-MAX EXPORT.
For European market we have infrared cameras SEEK THERMAL, fire and rescue tools, floating pumps and many other own label projects. All products offered by us are of the highest quality and have certificates and required licensing documents.
Our equipment saves human life and health, that is why we do our best to offer services of the highest possible standard - its our motto.
Gaining ISO 9001:2015 and AQAP 2110:2016 certification is a confirmation of the high level of our services and caring about clients. We meet NATO requirements of cooperation with an army (NATO Commercial and Government Entity Code - NCAGE), and National Armaments Director has acknowledged our capacity to cooperate with NAMSA by granting the Certificate of Reliability to us in 2009. Since 2008 we have participate in the Reliable Company Programme.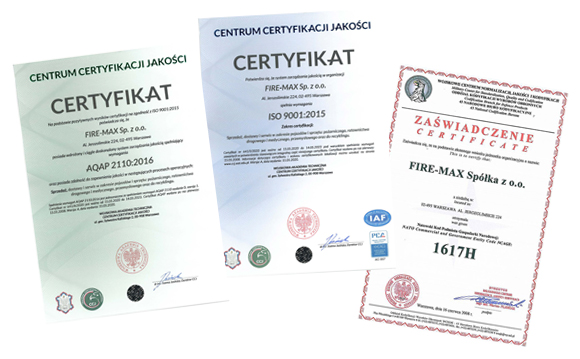 Fire-Max Your Competent Business Partner
Thanks to our consistent development we have become an industry leader in today's market – a competent partner, authorized service partner and a reliable source of information for our customers. Today we are setting the appropriate direction in business.
We are looking for partners and distributors. Interested? Join us now!